Easily Manage Your Calendar w/ Calendly
Scheduling meetings has never been so easy.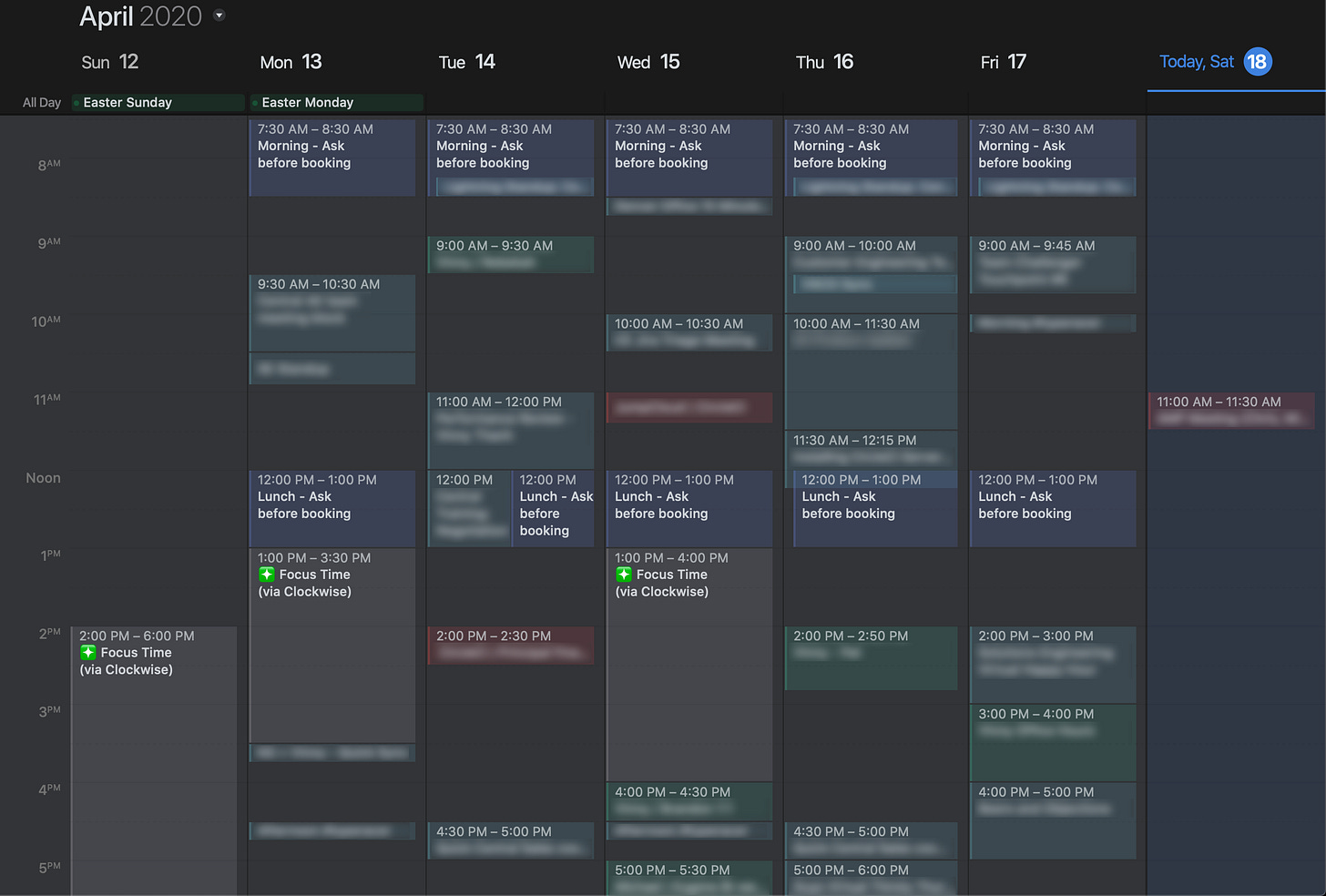 The above screenshot is, unfortunately, what my calendar looks like. It's a pretty typical week for me.
Being in a customer-facing role, I often have miscellaneous meetings all over the place. Booking meetings has often been a huge pain in the ass.
Gmail has a nice built-in feature that allows you to compare your schedule with a colleague's for availability when booking a meeting. But it requires a person to either be in the same organization as you, or their calendars must be public to the world (no, thanks).
If you're a business owner, or you simply work in any job or position that requires plenty of meetings and conferences, Calendly is a lifesaver.
Calendly is an online appointment scheduling software. At a basic level, here's how it works:
You send people a special link that points at your account, which syncs with your calendar (or calendars).

Calendly automatically checks your calendar(s) for openings and then lists available appointment windows or slots. This is based on your available times and the type/length of meeting the person would like to have with you.

Finally, when they schedule a meeting, you'll automatically have it added to your calendar as well as receive a notification email about it.
---
Here's what the app looks like.
When people click on your Calendly link, they're taken to a page with various options for "types" of meetings. By default on a free account, you'll only have one type of meeting people can book, but on paid plans, you can define and customize an unlimited number of types of meetings: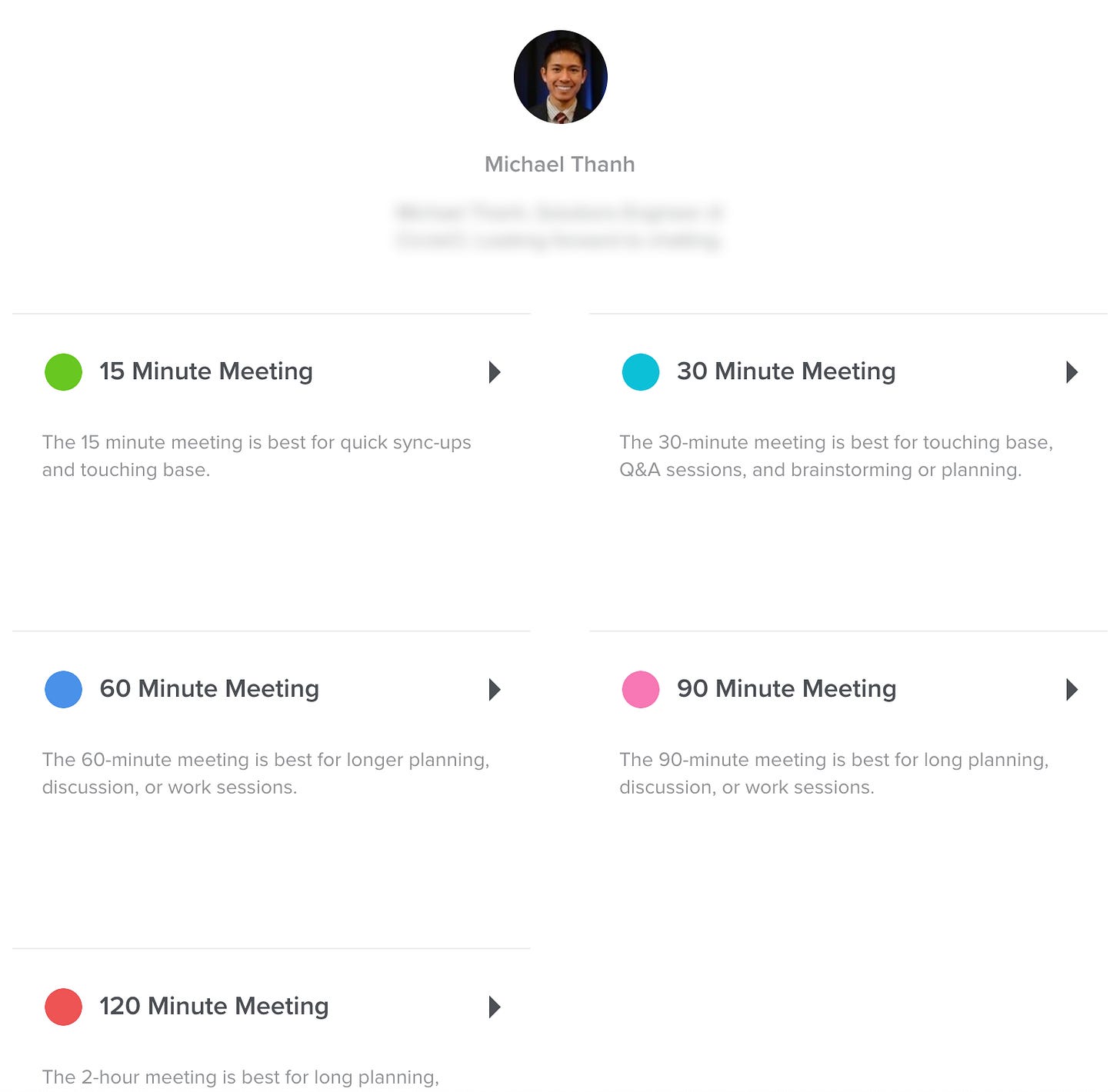 I've gone the boring and easy route and just named my meeting types according to the length of the slot. But for example, a counselor or nutritionist could easily set up "Initial Consultation" vs. "Follow Up" meetings. A yoga instructor could provide different types of yoga sessions. etc.
Once a person has selected the meeting they'd like to have with you, they'll be asked to pick a day, and then Calendly will check your calendar(s) to see what slots you have available for this type and length of meeting.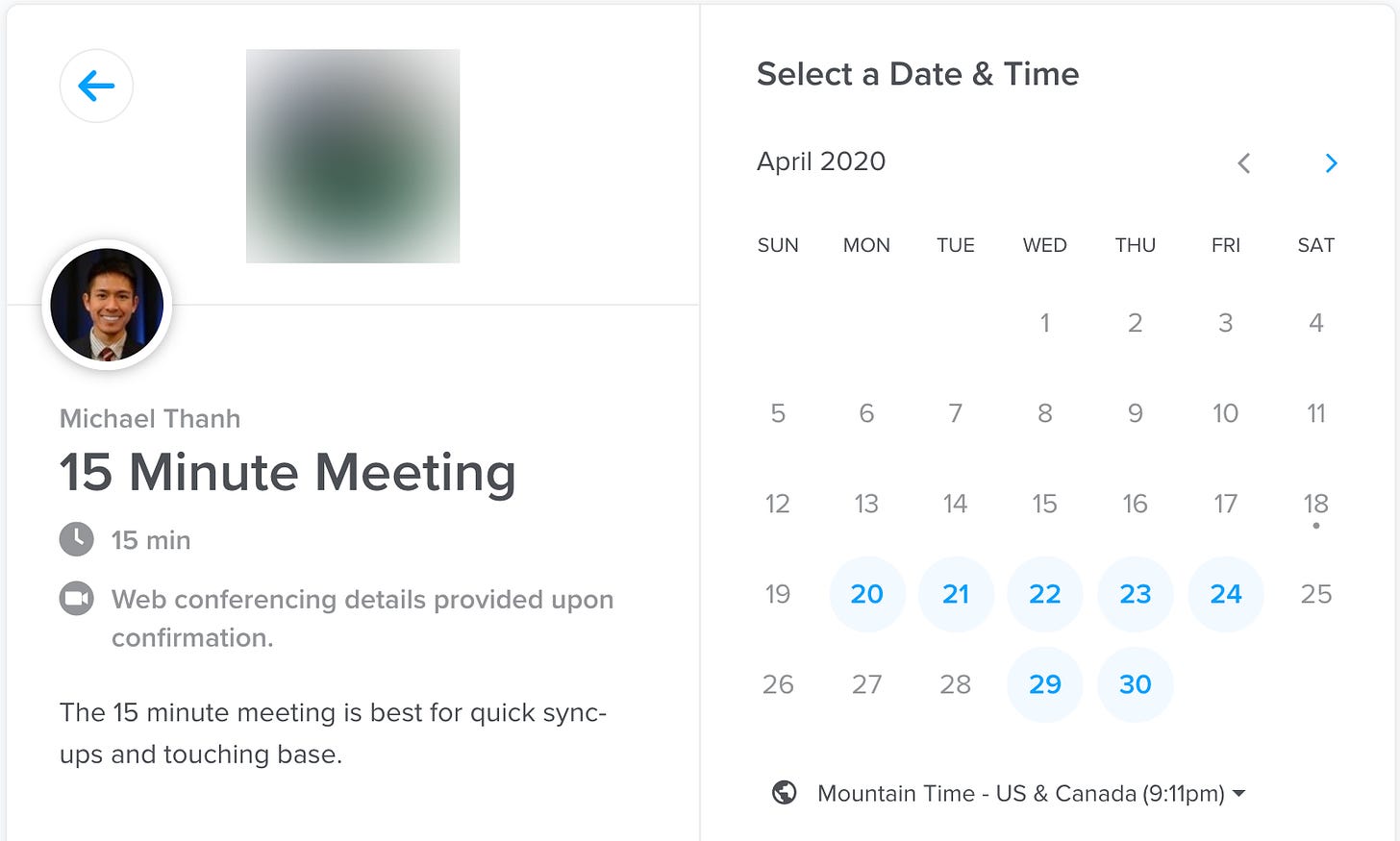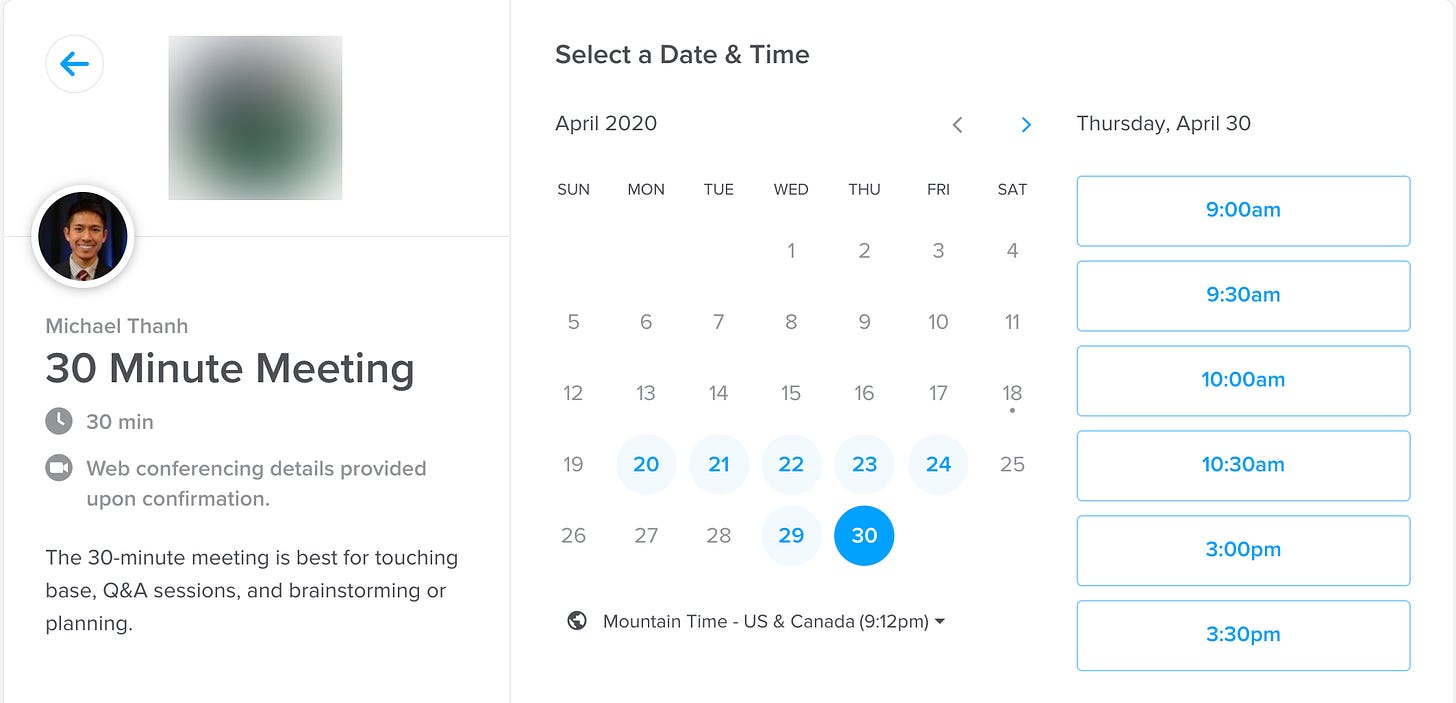 You can setup and customize what pieces of information you require from a person to submit when they book an appointment with you: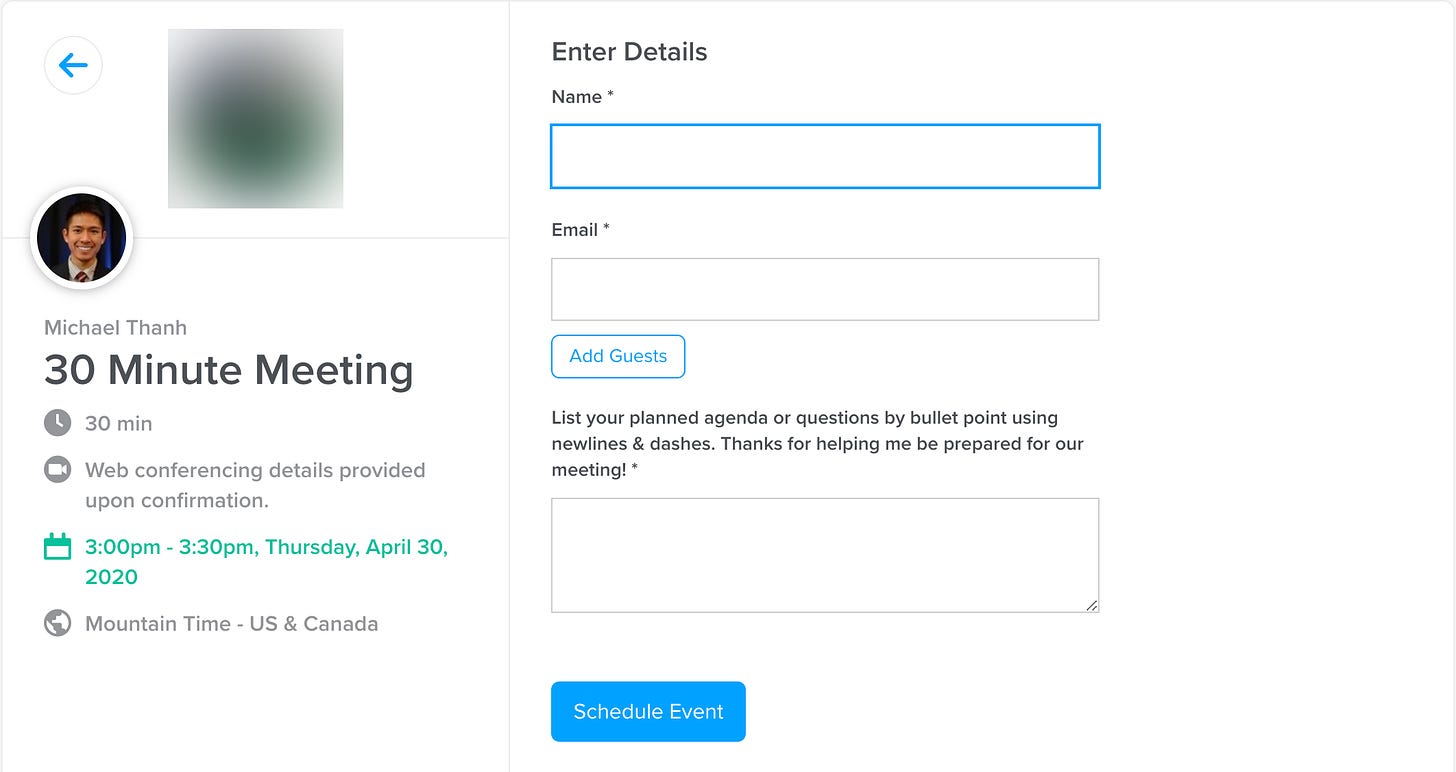 Again, I've gone the easy route and just added a generic text box. You could easily configure additional information inputs and require them from the user.
Once the person has scheduled the event and confirmed it, a calendar event is automatically sent to you along with the information they submitted in the web form. The user also receives a similar email and calendar invite: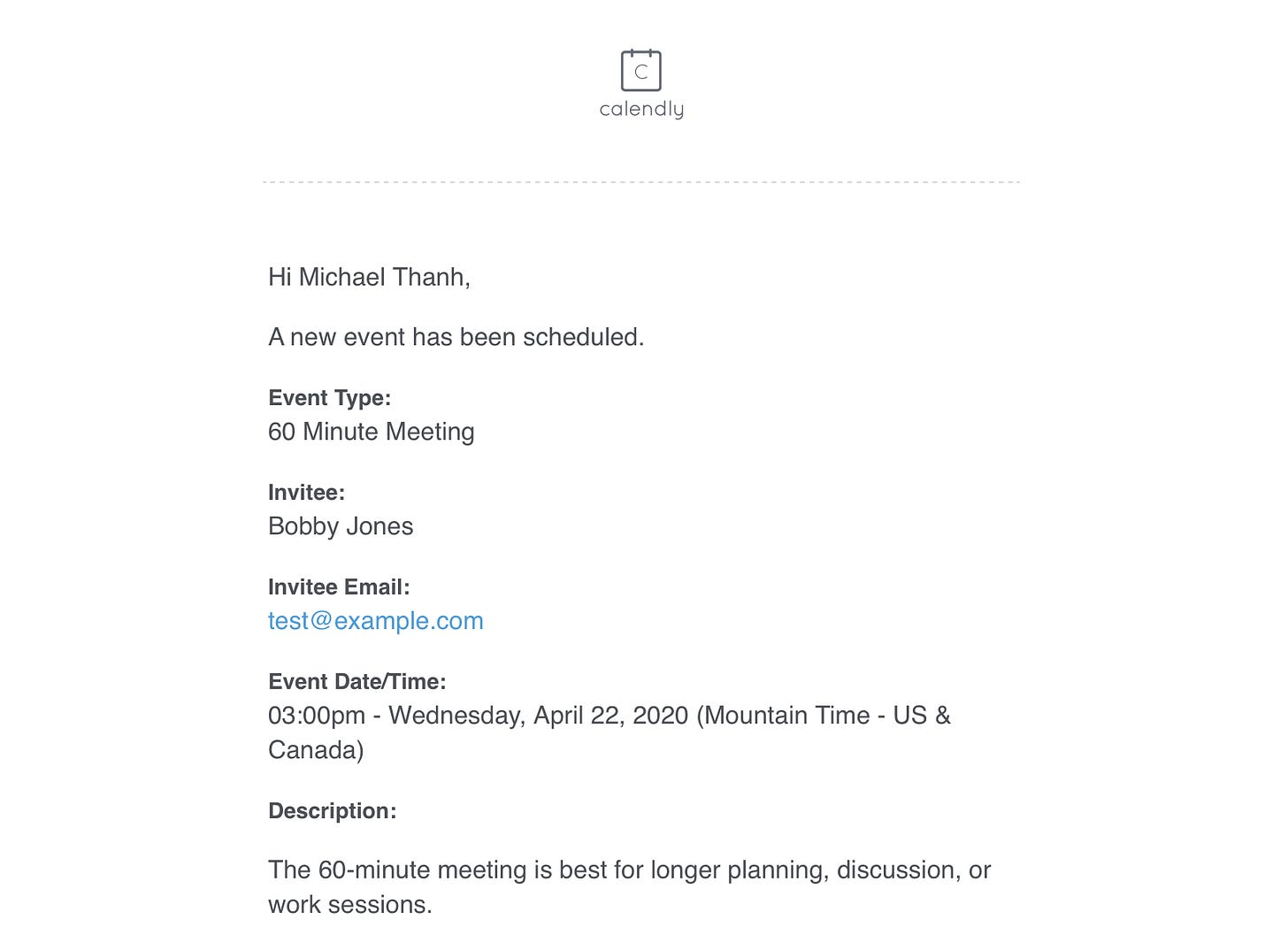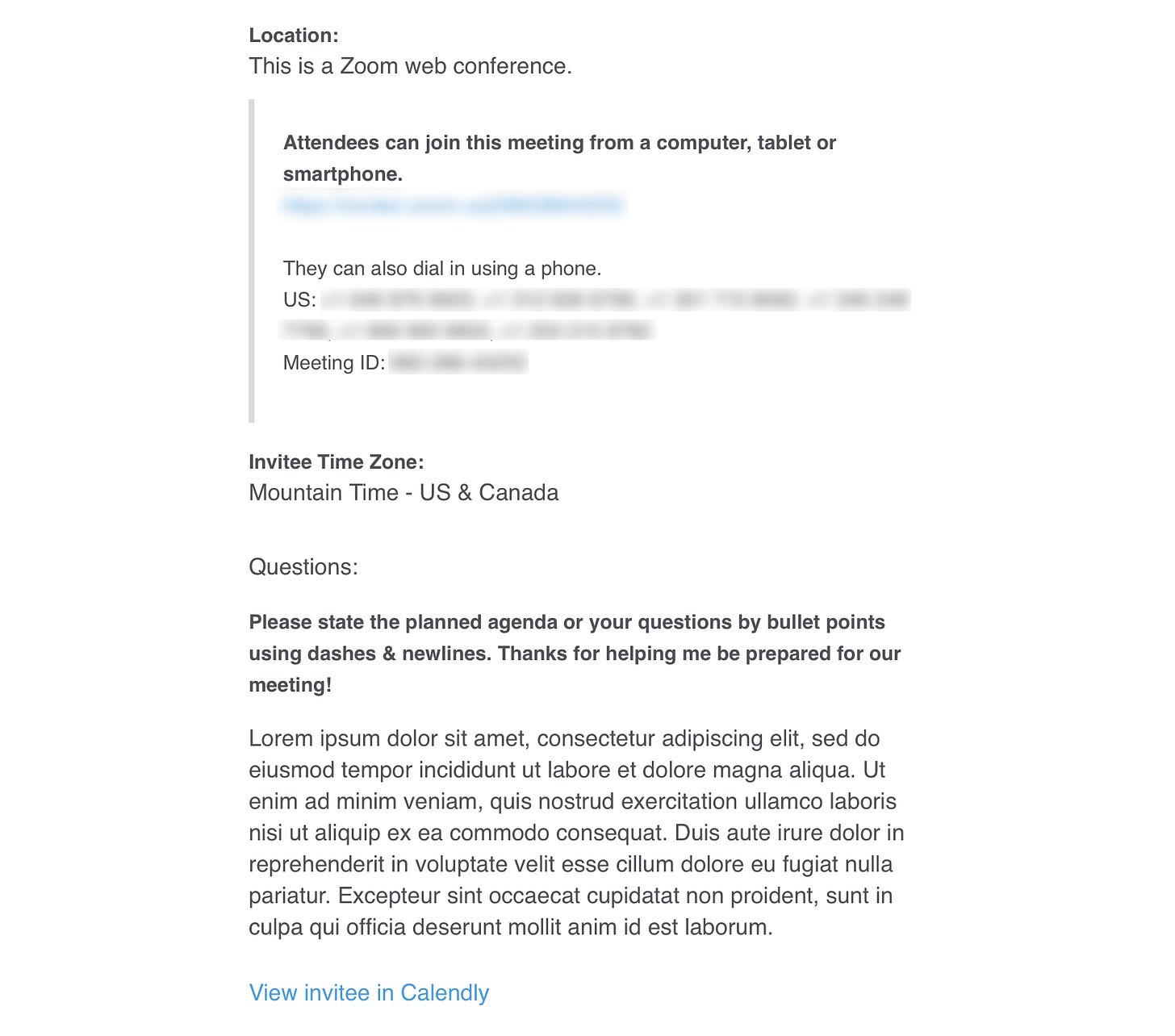 Easy. Simple. Painless.
If you've ever manually scheduled meetings with people before, it can become quite the obnoxious game of email, phone call, or chat tag.
(M) 6:34pm - Hey, are you free at 3pm tomorrow afternoon? I sent over a meeting invitation so we can go over our product design.

(D) 11:23pm - Hey! Sorry I was slow to respond, been out all evening. Unfortunately I've got something going on from noon through mid-afternoon. Could we push that out to 4pm?

(M) 8:15am [next day] - Ah, darn. I have to leave to pick up the kids at 4. Are you free tomorrow instead?

(D) 10:58am - Sort of, but it's spotty. How's either 10:30am or 12:30pm tomorrow?

(M) 2:46pm - Nope…
With Calendly, you can avoid all of this.
---
The Premium and Pro plans offer additional, fantastic features and integrations.
In addition to individual meetings, the paid plans offer more features and another type of event for groups—great for classes, webinars, meetings, etc. There are even options to make the group meeting secret, add payment collection, and even attach questionnaires (all available for individual meetings as well).
All of these features culminate together to allow you to monetize your business and create additional streams of revenue.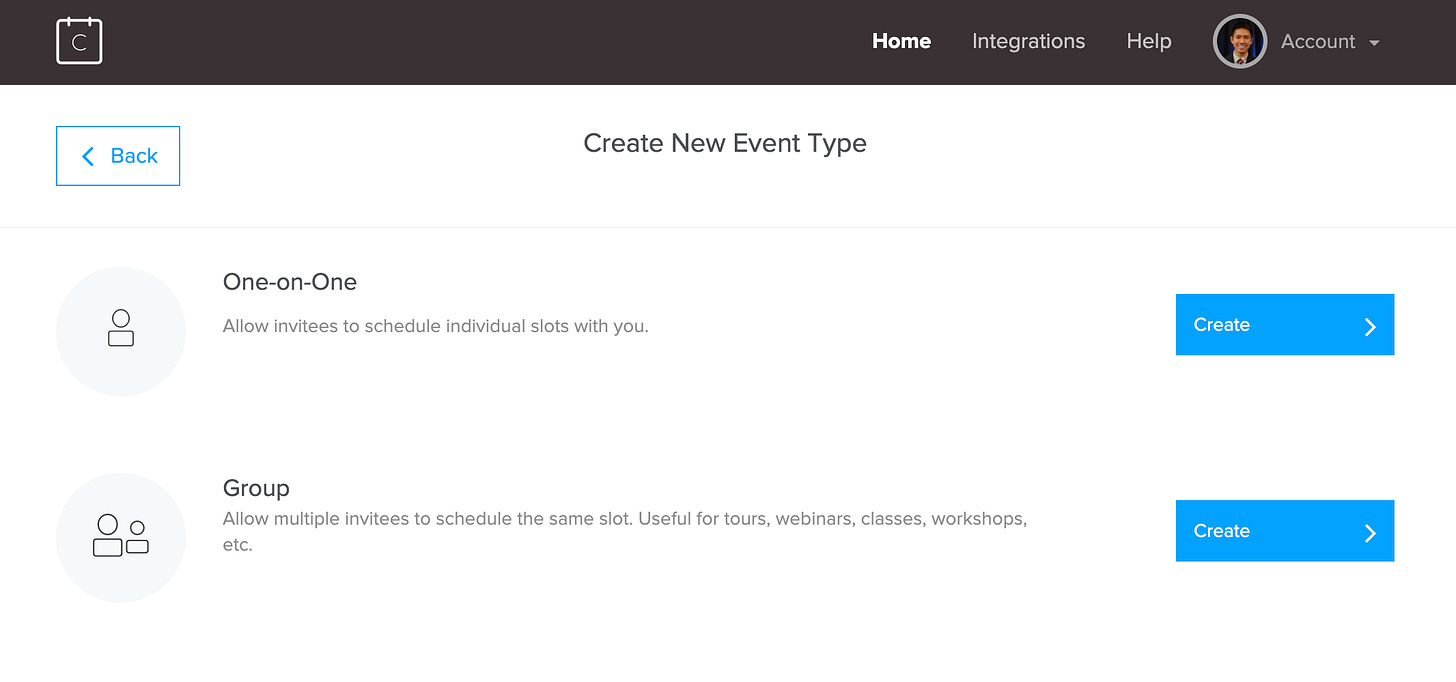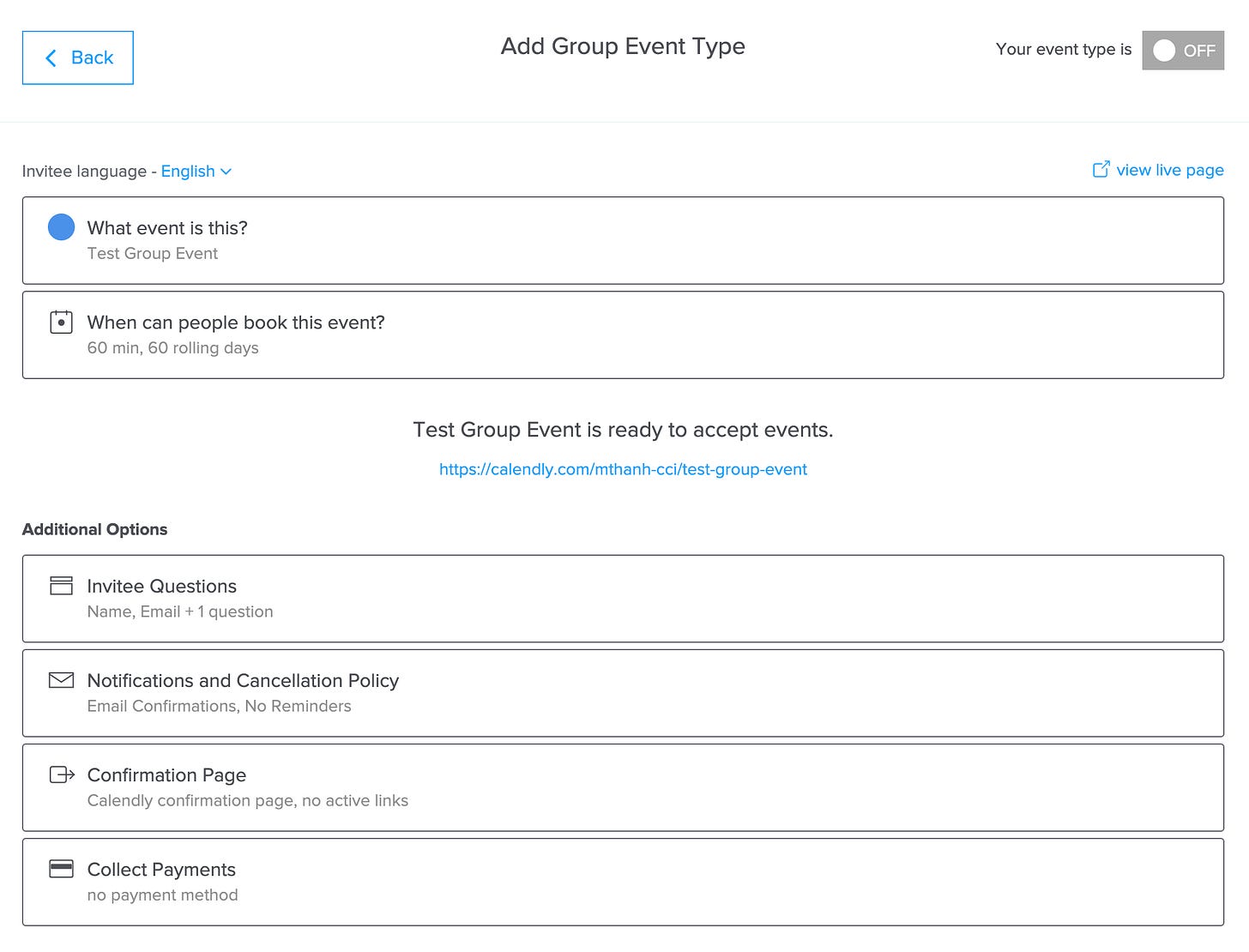 If you're an entrepreneur or part of a business, then the integrations are certainly a huge selling point of Calendly as well, offering support for various other tools like Zoom, Mailchimp, Salesforce, Stripe, Paypal, and more.
If you offer consultative or coaching services for your business, then all of the features above can greatly ease your business transactions and make them automatic.
Calendly is truly an app created for busy people to make managing their calendars painless and easy. In our minds, it's a must-have app in any entrepreneur or hustler's toolbelt.
---
Pros & Cons
Pros
It's easy to schedule meetings without any interaction required. As you saw above, there's no need to haggle back and forth about availability. People pick a slot, and boom, it's booked with all the information you require.

Calendly can actually sync to multiple calendars. This is a feature rolled out more recently (around a year ago), but it's possible for Calendly to check your availability not just on a single calendar, but multiple. This is highly useful for people who may have separate calendars for separate concerns (e.g., a work calendar + a personal calendar, for example).

Flexible options and features that actually help businesses. Built-in payment collection and integrations with the best business apps and communication apps? It's a no-brainer. These people know the pain points that entrepreneurs and business owners face, and they have worked to solve them.
Cons
Limited native app support. Calendly has an iOS app, but nothing for Windows, macOS, Linux, Android, etc. Your primary interaction with the app is through the web application in your browser.

Limited visibility, configurability for events, etc. Calendly has features that sort of compete with these other event sites like EventBrite. But while EventBrite is specifically an event management and ticketing website, Calendly has mostly marketed itself as a calendar and meeting management app for professionals and businesses. There's no easy way to advertise or browse events — you're on your own for marketing and advertising.

No direct integrations with contract, document, or legal management apps. From my view, since it markets itself as being meeting management for businesses and professionals, I see one lacking area: direct integration with apps like DocuSign. For example, there may often be a need for people to sign waivers, NDAs, etc., prior to meeting. You'll unfortunately have to handle that separately.
---
Conclusion
Overall, Calendly is an application that has made it very easy for me to manage my meetings and calendar. Instead of wasting time chatting, hunting through my calendar, etc., I can just send people my Calendly link and let them pick whatever slot(s) work for them.
Along with the other features and integrations I mentioned above, Calendly is an application that has helped me save immense time and make business transactions simple and easy. And I believe it will help you as well.
---
Thanks for reading App of the Month!
If you have feedback, let us know in this form.
We publish one article a month reviewing the greatest tools and apps for entrepreneurs, business owners, and professionals.