Feedly: For Avid Readers and Business Intelligence
Plus color scheme generation, browser tab organization, and more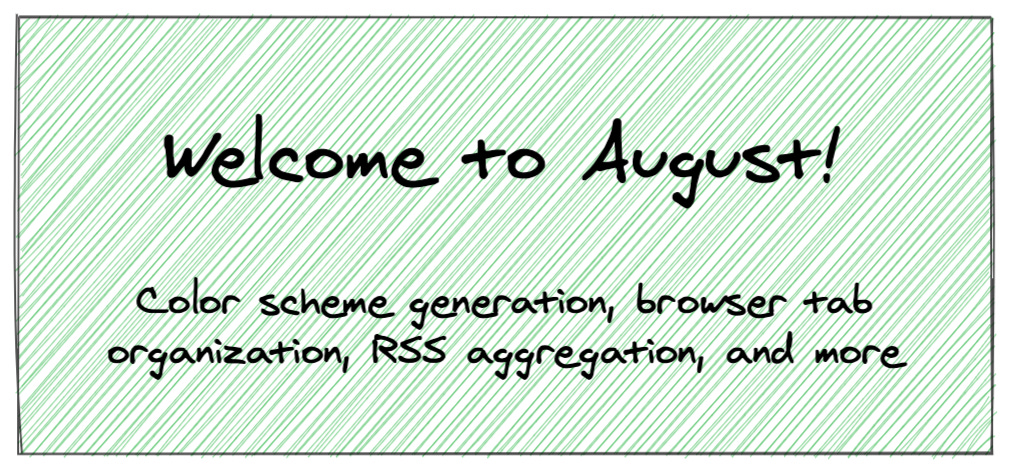 Last month, we used and would recommend the following tools:
Coolors.co is an online application for generating color schemes. You can easily make completely random schemes, or specify anchors, patterns, or variations on colors. Whether it's for your living room or your company's logo, the right color scheme can make a massive difference to the design. They even have Chrome and Adobe extensions. Completely free.

IFTTT, or If This Then That, is an online webhook automation service. In non-programmer speak, it's an app that automates interactions between applications for you. You can tweet Instagram photos as native tweets on Twitter, tell Google to call your device, post a notification when you win a Salesforce deal, there are endless options for automating your applications. Free for consumers. Starting at $199/year for developers and enterprises looking to connect their apps.

OneTab is a browser extension for Firefox and Chrome browsers that helps you organize your tabs. Rather than leaving 100 tabs open, you can collapse and collect them into groups to reopen later. It keeps your window clean, and most importantly, it makes groups of tabs immediately accessible at a click. Truly, OneTab is what browser bookmarks should have been. Completely free.
Each month, we cover three "honorable mentions" that are fantastic products but don't necessarily require a full review. And now, on to the main show.
---

There's a lot of crap on the Internet. Every day, thousands and thousands of new websites pop up, and all this information can be exhausting.
Back in March 1999, Dan Libby and Ramanathan Guha of Netscape invented RSS or Rich Site Summary. It's just a text file containing updates from a website - posts, articles, stories, topics, etc.
Websites generally have an RSS feed. Whenever they post new content, this RSS feed is updated to reflect the latest content. Consumers, such as yourself, "subscribe" to these RSS feeds to stay informed and up-to-date on the newest content from your sources.
It's the same as subscribing to an email list (like this one!). But instead of an email list, you subscribe to the file. And instead of receiving an email, you get the content itself or a link to the new content.
But RSS feeds can get messy pretty fast. Although you've cut through much of the noise of the Internet, there's still a lot of information.
Some of these sources (e.g., well-known news agency) will post several, if not dozens, of posts per day. Put together a few dozen sources, and now it's become chaotic again.
---
Feedly is an elegant, clean way to organize that chaos.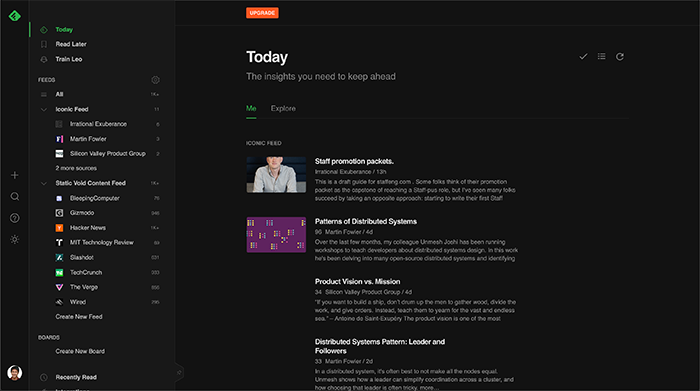 Boasting a clean interface and top-notch features, Feedly has helped make my life easier for both professional and personal reading.
---
Basic Features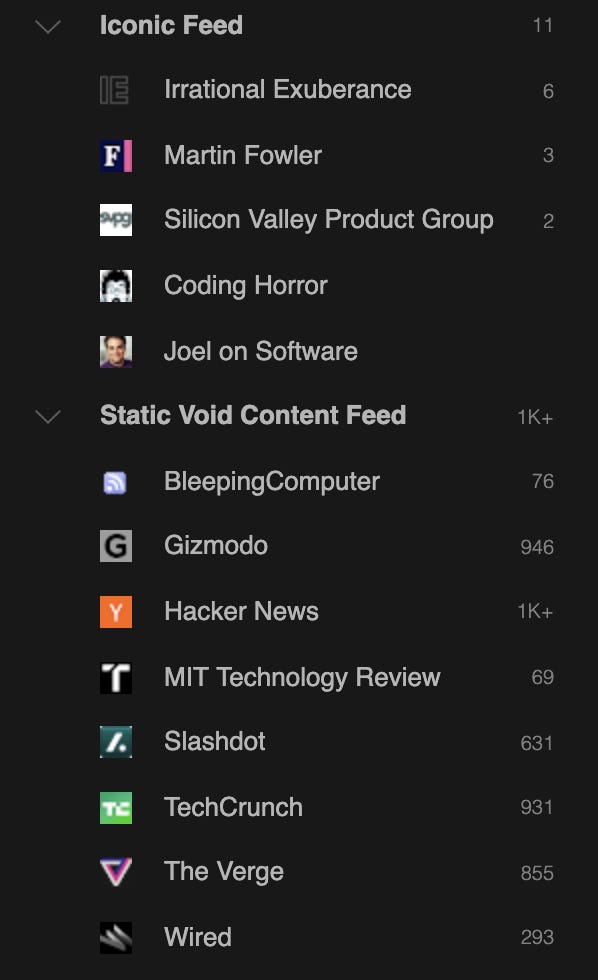 Feeds. On top of subscribing to various RSS feeds, you can categorize them, which helps you maintain and keep different sources organized.

Boards. Boards are like more professional Pinterest. You can save articles to a board, and you can even share those boards with others, like coworkers or teams in the premium plans. These can be a great way to gather intelligence or ideas while doing things like market research, copywriting, etc.

Integrations. You can integrate with various other tools like Pocket, OneNote, Evernote, and Dropbox to save articles.
---
Premium Features
Premium Integrations. On premium plans, you can even subscribe to Twitter feeds and hashtags as well as Subreddits, Reddit searches, and timelines to gather all of your news in one convenient place. You can even connect with WordPress, LinkedIn, IFTTT, Zapier, Hootsuite…

Team Features. Team boards, feeds, and newsletters make sharing information, news articles, and more even easier between members of your team who need to stay up-to-date on the latest happenings.

Security & AI. On an enterprise plan, you can have SSO/SAML authentication along with API access and premium Biopharma and Cybersecurity packages curated by Leo, their artificially intelligent assistant that fetches and curates information for you from the Internet.
I remember discovering Feedly a little over a year and a half ago, but recently Feedly has exploded in popularity since it's addressed several issues and added more features.
By far, it's one of the most useful tools in my arsenal.
---
Pros & Cons
Pros
Super fast, seamless experience. One of the fastest RSS aggregators I've ever used. Other applications are clunky and sluggish when managing too much information. But I have over 100 sources I've subscribed to, each dumping in hundreds of new updates and articles a month. I've yet even to notice any slowdown. Supposedly, their enterprise plan supports up to 7500 sources (!!!).

Clean interface. It's incredibly intuitive and easy to use. There are tutorials available, but everything made sense without having to read any docs or get any help. That is how an app should be. It's 2020—nobody should have to read manuals to use most web apps anymore.

Useful, powerful integrations. I don't personally subscribe to the business plan. Still, the ability to integrate with all these different tools and subscribe to social feeds is advantageous, especially for business intelligence. People say and share things, and as a business, it's in your interest to be privy to them.

Mobile apps are available. They have iOS and Android apps, too, so you can get all of your information on-the-go.
Cons
No desktop apps. I guess it's not a big deal for me because my web browser is a permanent fixture I almost always have open no matter what I'm doing on my computer. But Chrome is a memory hog, and I'd like to close it sometimes.

Bills annually. There's no option to pay per month, which some might dislike. But it's only $72/year for the individual pro plan, so that's not too bad. The biggest downside is that it's an upfront fee for the entire year, so if you get tired of keeping up with the Internet, you'll be wasting money the months you don't use it.
Overall, it's a fantastic product I'd highly recommend for personal and professional use—you can gather all of your favorite blogs and websites in one place for personal leisure reading. Or your company and team can use it as the all-in-one tool for market and competitive news and research.
They have a free plan which has most of the core features available. Then you can upgrade for some of the more helpful features. Definitely recommend.
---
Thanks for reading App of the Month!
If you have feedback, let us know in this form.
We publish one article a month reviewing the most excellent tools and apps for personal growth, entrepreneurs, and professionals.
Is App of the Month useful? We'd love it if you shared it with your friends! If you're not a subscriber yet, join today!