How to Take Beautiful Notes w/ Milanote
A clean, pleasant take on notes
---
There are many, many note-taking apps out there.
We have the standard basics that come with other purchases: macOS Notes, Windows Notepad, Google Keep, and others. Then we have a few specialized note-taking apps of high quality, like Evernote, Dropbox Paper, OneNote, Bear, etc.
And then we have Milanote.
With a beautiful user interface and easy UX, it's a fantastic note app that caters particularly well to creatives.
It's especially useful for when you need to freely arrange a mix of items like notes, checklists, images, and other things not necessarily in document form.
---
How does it work?
Structurally, you have "boards", "columns", and then everything else. A board is just a generic container that has other things, similar to an art board. Boards can comprise any other element, including other boards.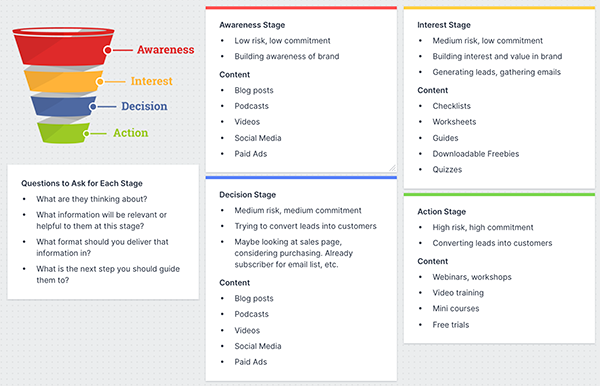 In the screenshot above, I've taken notes about the standard sales funnel. As you can see, it's easy to color-code individual cards and lay them out in a way that makes sense.
All elements, including images, text notes, numbered lists, checklists, etc., can simply be placed on the board and arranged however you want—just like an art board.
You can even upload files onto your boards, which is extremely useful for attaching assets for specific projects or other content.
Your "dashboard" itself is actually an empty board, in which you can place your other boards. I've organized mine in a grid layout so I can find projects by category. It's completely up to you how you structure your own boards and notes.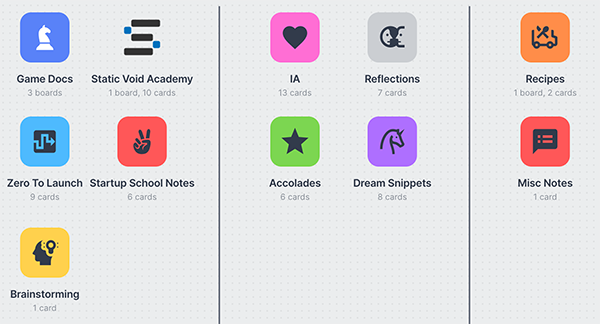 In addition, the mobile applications are really great at taking these same notes and laying them linearly to fit to your phone's vertical screen.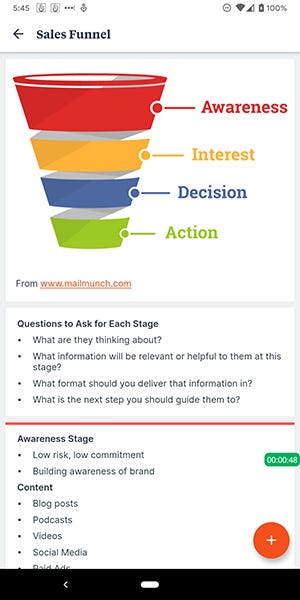 You can edit the notes like normal, and there's no disruption or any impediment to utilizing the application on a non-desktop screen.
---
Is there a free plan?
Yes - the free plan allows you up to 100 notes, images, or links. That doesn't sound like a lot, but if you reference the screenshots, each card counts as 1 note. For example, my "dream snippets" board only fills up 8 "notes" of quota: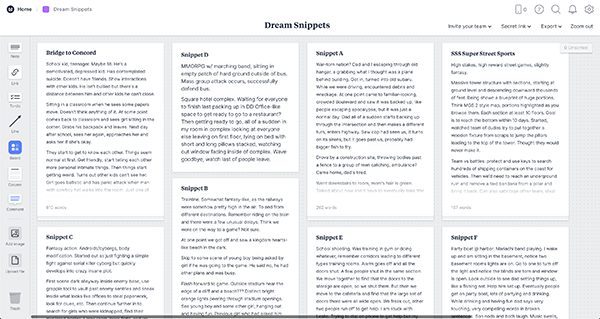 That's roughly ~3,000 words of content captured in only 8 notes. If you're curious about Milanote and want to give it a shot before actually paying any money, the free plan is more than adequate.
Even on the free plan, you have the capability to share your boards with others by generating a secret link—useful if you have artboards you want a second pair of eyes on.
Just like other note-taking apps, you have the capability of collaborating and giving others edit and view-only access to your boards, or even leave comments. You can even export your notes in PDF and PNG.
They even have a convenient function to convert your artboards to a linear document layout for export as Markdown and Microsoft Word formats. Super powerful.
---
What does the paid plan get you?
For $10/month (annual plan), you get:
Unlimited file uploads

Unlimited notes

Search capability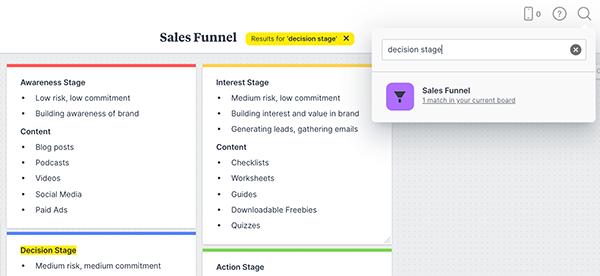 The search capability is powerful, allowing you to look up and search any words or phrases in all of your boards. It automatically gets highlighted in your notes as well when you click on the search result.
By default, the free plan only allows for 10 file uploads, but with unlimited file uploads, your crucial assets for your notes can be stored all together conveniently and beautifully in Milanote.
The only downside—there's a critical lack of integrations. What would really seal the deal and take this app to the next level is if users could integrate with other pieces of software and see everything they need to at-a-glance.
As a developer, I'm thinking the capability to pin posts from sites like Pinterest, Unsplash, show / preview documents from Google Docs, or even charts from, say, Diagrams.net, would be jaw-dropping.
---
Pros & Cons
Pros
Flexible, beautiful notes of various types. You can organize all of your notes, including a standard text note, checklists, images, files, etc. Being able to arrange all of this content freely is fantastic for creative projects and notes.

Generous free plan. As mentioned above, the free plan sounds like it doesn't offer much, but you'd be surprised just how much content is in 100 free notes. In addition, you have access to all of the sharing and collaboration features, as well as export features. It's a great app.

Great mobile apps. The mobile applications on both iOS and Android are solid—you're able to use the application in an intuitive manner, and they've managed to intuitively align and display your same complicated board without issues on your phone.
Cons
Lacking integrations. A lack of integrations with any 3rd-party apps reduces the impact of being able to freely, creatively organize your notes. There are also no browser extensions for clipping web notes.

No widgets for phone. Although there are iOS and Android apps available for Milanote, there are no satisfactory home screen widgets available. Any time you want to take notes, you'd have to open up the full application.

No native desktop apps. No macOS, Windows, or Linux apps. You'll pretty much have to either use your cellphone or log into the application in your browser, requiring Internet access.

Paid plan is lacking. The top two bullets above are what drive this home for me—although the app is a great note-taking app, the balance of features and capabilities doesn't make the $10/month price tag worth it (in my humble opinion). Evernote is less expensive but has three times as many features. To be clear, I prefer Milanote over Evernote—if Milanote could figure out a way to support better integrations and introduce more of those convenience features, it could potentially kill other note-taking apps.
---
Bottom Line
If you take a balance of visual and text-based notes, then Milanote is a worthwhile application to check out. With a great array of features surrounding visuals and arrangement, you can lay out incredible notes and boards with content for your most creative projects.
Having said that, it's lacking a lot of the real features that make other note-taking apps great, namely:
Lack of integrations with other apps

Lack of additional ecosystem features like phone widgets, browser extensions to clip and store notes, or even hand-writing and note-scanning—all of which Evernote has
Try out Milanote's free plan today, and if you really like the visual arrangement of notes and the flexibility, then it could potentially be worth upgrading to the paid plan.
---
Thanks for reading App of the Month!
If you have feedback, let us know in this form.
We publish one article a month reviewing the greatest tools and apps for entrepreneurs, business owners, and professionals.